Training Opportunities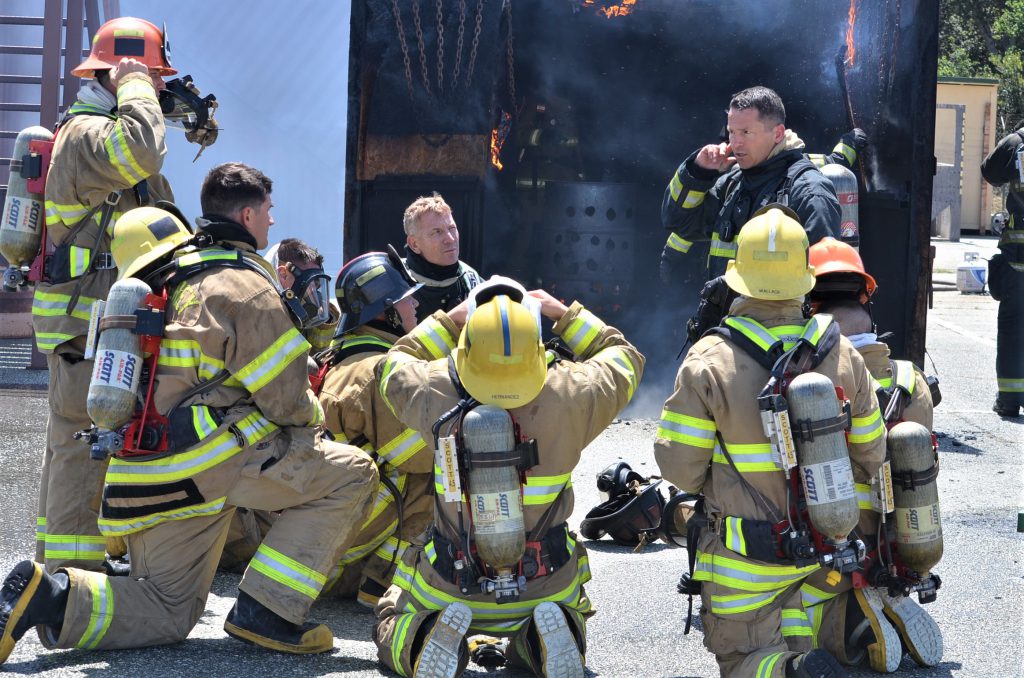 Below are training opportunities within California, or nearby, that may be of interest to you or your agency. Click on the links for a class flyer or more information.
The flyers and links posted below are informational only and we are not responsible for any cancellations or changes to the class dates, times, location, requirements, etc. We are also not responsible for any type of certifications offered, issued, or not issued, for any of the classes listed on our site. Always check with the class sponsor prior to taking any class to know exactly what type of certification is being offered. Never assume you will receive certification based on the class title alone. Any questions concerning these classes should be directed to the class host or sponsor.
Feel free to send us your class flyers or schedules, as a PDF, to mcftoa@gmail.com and we will do our best to post them below.
Classes held at the California Fire Academy at Monterey Bay through Monterey Peninsula College are listed below on the "PSTC" (Public Safety Training Center) tab of this site.
Executive Chief Fire Officer:
Executive Chief Fire Officer 4A – Paso Robles DES / SBRPSTC, Jan. 22 – 24, 2024, Paso Robles, CA
Executive Fire Officer 4A – Elite Command Training, Nov. 13 – 16, 2023, Anaheim, CA
Executive Chief Fire Officer 4B – Paso Robles DES / SBRPSTC, Jan. 25 – 26, 2024, Paso Robles, CA
Executive Fire Officer 4B – Elite Command Training, Nov. 16 – 17, 2023, Anaheim, CA
Executive Chief Fire Officer 4C – Paso Robles DES / SBRPSTC, Feb. 26 – 28, 2024, Paso Robles, CA
Executive Fire Officer 4C – Elite Command Training, Dec. 4 – 7, 2023, Foothill Ranch, CA
Executive Chief Fire Officer 4D – Paso Robles DES / SBRPSTC, Jan. 29 – Feb. 2, 2024, Paso Robles, CA
Executive Fire Officer 4D – Elite Command Training, Nov. 27 – Dec. 1, 2023, Anaheim, CA
Executive Chief Fire Officer 4E – Paso Robles DES / SBRPSTC, Feb. 29 – Mar. 1, 2024, Paso Robles, CA
Executive Fire Officer 4E – Elite Command Training, Dec. 7 – 8, 2023, Foothill Ranch, CA
Chief Fire Officer:
Chief Fire Officer 3B – Red Helmet Training, Sept. 25 – 26, 2023, Rancho Cucamonga, CA
Chief Fire Officer 3C – Red Helmet Training, Sept. 27 – 29, 2023, Rancho Cucamonga, CA
Company Officer:
Company Officer 2A – Fire Instruction, Oct. 9 – 12, 2023, Oakdale, CA
Company Officer 2A – Yuba College, Sept. 19, 21, 26, 28, Oct. 3, 5, 10, 12 Online / Hybrid
Company Officer 2A – Shield Training Center, Oct. 9 – 13, 2023, Redding, CA
Company Officer 2A – San Luis Obispo FD / SLO County Training Officers, Oct. 9 – 12, 2023, San Luis Obispo, CA
Company Officer 2B – San Luis Obispo FD / SLO County Training Officers, Oct. 23 – 26, 2023, San Luis Obispo, CA
Company Officer 2B – Shield Training Center, Nov. 27 – 29, 2023, Redding, CA
Company Officer 2B – Yuba College, Oct. 16, 18, 23, 2023, Online / Hybrid
Company Officer 2B – Monterey County Fire Training Officers, Oct. 18 – 20, 2023, Seaside, CA
Company Officer 2B – Elite Command Training, Sept. 25 – 27, 2023, Escondido, CA
Company Officer 2C – Shield Training Center, Dec. 4 – 8, 2023, Redding, CA
Company Officer 2C – Yuba College, Nov. 1,6,8,13,15,20,27,29, 2023, Online / Hybrid
Company Officer 2C – Monterey County Fire Training Officers, Nov. 6 – 10, 2023, Seaside, CA
Company Officer 2C – Elite Command Training, Oct. 9 – 12, 2023, Escondido, CA
Company Officer 2C – San Luis Obispo FD / SLO County Training Officers, Nov. 11 – 17, 2023, San Luis Obispo, CA
Company Officer 2D – San Luis Obispo FD / SLO County Training Officers, Feb. 5 – 8, 2024, San Luis Obispo, CA
Company Officer 2D – Shield Training Center, Oct. 16 – 20, 2023, Redding, CA
Company Officer 2D – Monterey County Fire Training Officers, Dec. 4 – 8, 2023, Seaside, CA
Company Officer 2D – Elite Command Training, Nov. 13 – 16, 2023, Escondido, CA
Company Officer 2E – Monterey County Fire Training Officers, Jan. 22 – 26, 2024, Seaside, CA
Company Officer 2E – Shield Training Center, Oct. 23 – 27, 2023, Redding, CA
Company Officer 2E – Elite Command Training, Dec. 11 – 14, 2023, Escondido, CA
Company Officer 2E – San Luis Obispo FD / SLO County Training Officers, Feb. 19 – 22, 2024, San Luis Obispo, CA
Fire Science / Protection Technology Degree Program:
Fire Protection Technology Core Classes – Monterey Peninsula College, 2022-2023, MPC Public Safety Training Center
Position Assignments:
FEMA L-954 All Hazard Safety Officer- Elite Command Training, Oct. 9 – 12, 2023, El Cerrito, CA
AH-330 Strike Team / Task Force Leader – Elite Command Training, Oct. 23 – 26, 2023, Escondido, CA
Incident Command:
Leadership:
Career Development:
Fire Suppression:
Driver Operator:
Rescue:
Fire Investigation:
Fire and Arson Investigation Training Seminar – California Conference of Arson Investigators, Oct. 16 – 19, 2023, San Luis Obispo, CA
Fire Inspector:
Fire Inspector 1C – firepreventionclasses.com / Crockett Carquinez FD, Sept. 23 – 25, 2023, Crockett, CA
Fire Inspector 1D – firepreventionclasses.com / Crockett Carquinez FD, Oct. 13 – 14, 2023, Crockett, CA
Fire Inspector 2B – Hazardous Materials Institute, Oct. 2 – 4, 2023, Rocklin, CA
Fire Inspector 2C – Hazardous Materials Institute, Nov. 6 – 7, 2023, Rocklin, CA
Fire Inspector 2D – Hazardous Materials Institute, Dec. 4 – 7, 2023, Rocklin, CA
Plan Examiner:
Fire Prevention:
Instructor:
Instructor 1 – Monterey County Fire Training Officers, Feb. 26 – Mar. 1, 2024, Seaside, CA
Instructor 2 – Monterey County Fire Training Officers, April 15 – 19, 2024, Seaside, CA
Instructor 2 – Elite Command Training, Oct. 10 – 13, 2023, Escondido, CA
Instructor 3 – Red Helmet Training, Dec. 4 – 8, 2023, Rancho Cucamonga, CA
Instructor Training:
Employing Visual Aids – Sunnyvale DPS / SBRPSTC, Sept. 18 – 21, 2023, Sunnyvale, CA
Employing Visual Aids – Paso Robles DES / SBRPSTC, Oct. 2 – 6, 2023, Paso Robles, CA
Techniques of Evaluation – Sunnyvale DPS / SBRPSTC, Oct. 16 – 18, 2023, Sunnyvale, CA
Wildland:
Emergency Medical Services:
Snycope – Global Medical Response, Sept. 27, 2023, Online
Emergency Medical Responder – Shield Training Center, Oct. 28 – Nov. 18, 2023, Redding, CA
Pediatric Death Declaration and Bereavement – Global Medical Response, Oct. 5, 2023, Online
Caregiver Wellbeing – Global Medical Response, Oct. 6, 2023, Online
HAZMAT:
Hazmat Incident Commander – Monterey County Fire Training Officers, Oct. 16 – 17, 2023, Seaside, CA
CSTI HAZMAT Fire Responder Awareness – firepreventionclasses.com / Crockett Carquinez FD, Oct. 15, 2023, Crockett, CA
Hazardous Materials First Responder Operational – Shield Training Center, Oct. 21 – 22, 2023, Redding, CA
Critical Incident Stress
Critical Incident Stress Management – Monterey County Behavioral Health, Sept. 20 – 22, 2023, Marina, CA
Media / PIO:
Auto Extrication:
Radio Communications: