Membership
The Monterey County Fire Training Officers Association (MCFTOA) is a 501(c)(3) California Nonprofit Public Benefit Corporation. According to the corporation bylaws, the primary objectives and purposes of the corporation are:
"To promote and improve public safety training, standards, and performance levels, by providing and supporting fire service education and training to professional and volunteer public safety personnel and agencies in Monterey County. The foregoing shall be accomplished through such methods as conducting or sponsoring classes, seminars, schools, or training events. Additionally, provide and make available educational materials and resources through contemporary electronic media, serve as a sub-committee to the Monterey County Fire Chiefs Association supporting training activities throughout Monterey County. And overall, support and enhance training standards and education to fire service agencies and personnel."
Membership in the MCFTOA is open to all active and retired emergency services personnel. Annual individual dues are $15.00 and are payable at the first of each calendar year. Annual dues can be renewed up until February 1st of each year. Membership status is determined by payment of annual dues and only current members, members in good standing, are allowed to make motions, seconds, cast votes, and receive agenda and minutes.
Regular membership meetings of the MCFTOA are conducted on the second Thursday of each month starting at 1000 hrs. Monthly membership meetings are held online via Zoom. A link for the Zoom meeting is included in each monthly meeting agenda. Agendas are sent via email to each active member of the MCFTOA. An annual in-person meeting is held in the month of December at the Monterey Peninsula College Public Safety Training Center, 2642 Colonel Durham Street, Seaside, CA, or at an alternative location as determined by the organization.
To become a member of the MCFTOA, complete the Membership / Renewal Application – Dues Payment form below, along with the annual dues payment of $15.00, and mail the check and completed form to:
MCFTOA
2642 Colonel Durham St.
Seaside, CA 93955
Annual dues payments can also be made on-line, preferred method, with a credit card below. If paying by credit card on-line, be sure to complete a Membership / Renewal Application – Dues Payment form and email the completed form as a PDF attachment to: mcftoa@gmail.com
A completed Membership / Renewal Application – Dues Payment form is needed for each individual member.
Agency Purchase Orders and cash are not accepted.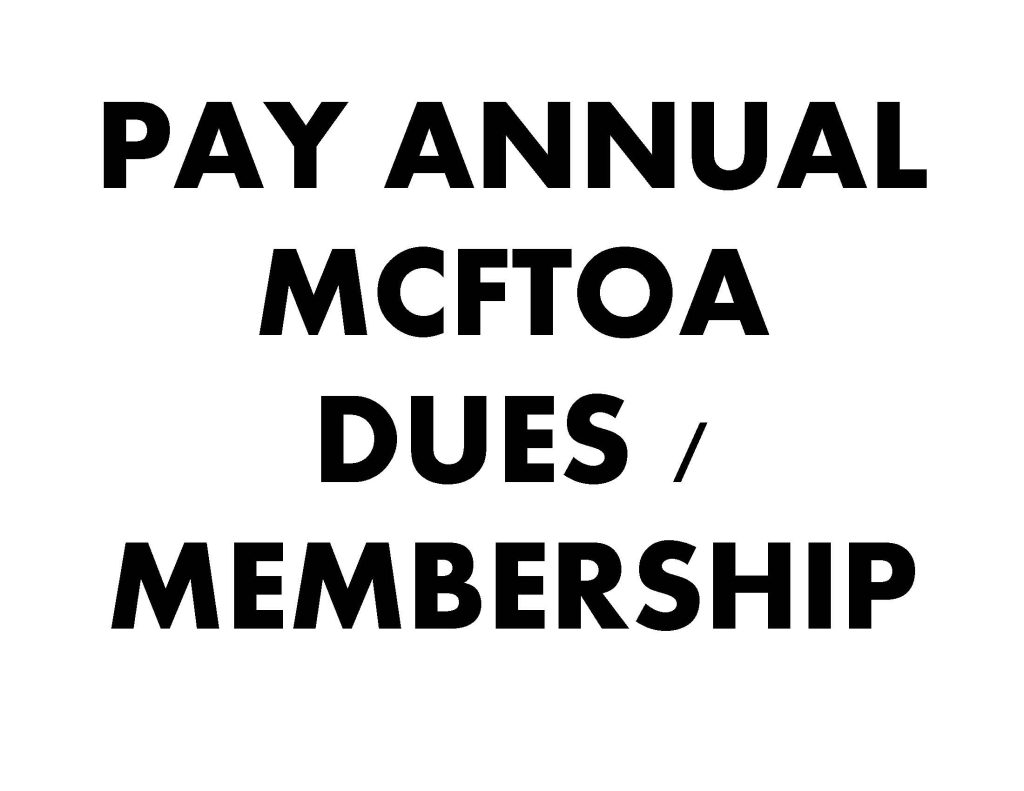 MCFTOA Membership Application – PDF Fill-In Form
MCFTOA Polo Shirts:
MCFTOA polo shirts with the MCFTOA logo are available for members to purchase. The polos are black and are a 50/50 cotton-polyester blend. We have sizes M, L, XL, and XXL. Shirts are $15.00. Once payment is made through the link below, please send an e-mail to mcftoa@gmail with your name, requested shirt size, and an address we can mail the shirt to. We can also drop them off at a fire station.
MCFTOA Challenge Coins:
MCFTOA Challenge Coins are available for members purchase. The cost of the coin is $15.00 which can be made through the link below. Once payment is made, please send an email to mcftoa.org with your name and mailing address so we can ship the coin to you. If you would like to make other arrangements about how to obtain the coin, please detail that out in the email.